SaliPen® dry mouth treatment reviews
SaliPen® users no longer suffer from dry mouth
SaliPen® dry mouth treatment reviews
SaliPen® users no longer suffer from dry mouth
You helped me purchase the SaliPen®. I like it very much."
I did receive the Salipen®. It's wonderful! Thank You
The device is definitely helping my wife.
Food and wine is something I am really starting to appreciate again.
The Saliwell® device elicits symptom relief for 2-7 days. I feel my mouth more humid and can even spit!!.
I am using my SaliPen® regularly and finding that it's becoming more effective with regular use. I want to order a second SaliPen®.
I use the device 3 times a day for 5 minutes each time. It should be used by anyone suffering from mouth dryness and wish to improve his life.
The Saliwell® device has markedly improved the dryness of my mouth and made a big difference in my life.
After 6 months of using the device ten times every day, my dryness disappeared. Now, four years later, my mouth is normally wet and I don't need any product to fight dryness."
My experience with the SaliPen® has been nothing short of fantastic. In addition to stimulating saliva, it permits me to feel optimistic with a condition that otherwise is very discouraging. I use the SaliPen® daily and can't recommend it highly enough!
I feel that my tongue is more flexible than before. I used to wake up three to four times during the night to drink water and to urinate. During this last month I had several whole nights of sleeping. It represents a great changing in the quality of my life.
SaliPen® works as advertised, a big THANK YOU. I am so glad you folks took it serious and worked on helping. I quickly learned the SaliPen®, and it has a very shocking result!"
We have had our SaliPen® 4 months. It has been very effective for my husband's saliva production since his throat cancer (August 2022). It has stopped working. Please ship us a replacement SaliPen® as soon as humanly possible. He will struggle to eat and sleep until the replacement is received."
I bought my first SaliPen® in the fall of 2020 and I've found using it daily has helped my dry mouth immensely! It used to be extremely bad and now I no longer even have to take my prescription cevimeline, which I previously took 3 times a day to produce saliva. I really love the SaliPen® and thank you for helping people like me!
I did purchase SaliPen® in early 2017 from London and found it very effective especially since it comprises treatment without drugs. I am so glad you folks took it serious and worked on helping. I quickly learned the SaliPen®, and it has a very shocking result!"
I have been using a SaliPen® for about ten days and the difference is remarkable …. I could feel the saliva coming into my mouth. That night I had the first night's sleep since I can remember. This device has changed the quality of my life. I do not want to be without this magic wand! You guys are geniuses!
When I started on the SaliPen®, within the first week I started getting saliva, and it increased weekly. Before the device, a morning cup of coffee dried my mouth out badly! That is no longer the case. I Thank you for the SaliPen® and it has made me feel like a human again.
Just to let you know all is going well with my SaliPen®. I'm due to take a series of international flights from New Zealand to Europe. I was wondering if you know whether I can carry my SaliPen® in my carry on hand luggage or should it go in the hold with my main luggage? I'm keen that it doesn't cause any security hassles and isn't confiscated. Please let me know your thoughts and any advice.
Since my wife suffers from severe dry mouth, we invested in a SaliPen®. At first she was using the SaliPen® around 9 times per day and gradually she got down to around 5 times per day, from there she gradually got down to once per day (over a period of about 9 months). I hope this story gives you an idea of how grateful we are of being to get your SaliPen®. The SaliPen® was a god sent. Thank you for all your help over the past 12 months."
I was so impressed with my SaliPen® that I decided to buy another one to keep on hand in case something ever went wrong with my first one. I started with symptoms of dry mouth in October of 2021. I was seen by many doctors and the only help they could give me was a prescription for pilocarpine. My quality of life is so much better now that I've been using the SaliPen® for the last couple of months! It has given me much needed relief for my dry mouth. I don't even need to take the pilocarpine any longer. It's has made my quality of life so much better! I just wanted to say THANKS!" Sincerely,
I love my SaliPen®!! No side effects and it works wonderfully!! I have had "burning tongue" for nine years due to severe Xerostomia (saliva gland dysfunction). I tried the two medications for stimulation of my saliva glands. They were horrible. I was sweating like crazy and cold. Therefore, my oral pathologist, Dr. Zunt recommended the SaliPen® and it has changed my life. It's been four months since I received it and I am sleeping so much better as my mouth and throat stay moist. Now I wake up once in the night use my SaliPen® and go back to sleep. My burning tongue is so much better. Wonderful experience with SaliPen®. If you're suffering from dry mouth SaliPen® is the answer. I am forever grateful for Dr. Wolff's invention of the easy to use SaliPen®!!
I am sending this email as a follow up regarding SaliPen® outcome for my dry mouth following my radiotherapy treatment. Well, first of all, allow me tell you that since the first time I used SaliPen®, my saliva came back in about 30 seconds. Then, I started using SaliPen® three times a day, for 5 minutes, and it has lasted, at least, from five to six hours, meaning that my dry mouth symptom has been getting better and better with the miraculous device you have invented. I also had an appointment with my dentist last Wednesday and, as usual, she tested my saliva production and she was flabbergasted because the last time I was there I had no saliva even after having a chewing gum in my mouth for five minutes. That's the reason I have decided with my wife to up date you about how helpful and effective SaliPen® has been not only to relieve my dry mouth problem but also to improve my quality of life at present because now I can walk at least 30 minutes everyday as well as going to my Physio sessions for exercises to recover my body mass because of my aggressive weight loss after being diagnosed with an inoperable Squamous Cell Carcinoma in the base of my tongue, in March, 2022. Once again, thank you for making possible for me to get SaliPen® from the headquarters in Israel. I really appreciated your helpfulness."
Sjögren's syndrome patient review of SaliPen® dry mouth treatment
K. M., U.S.A
Sjögren's syndrome patient treated with SaliPen®
…very emotional! And I have saliva in my mouth which I cannot believe…
Mrs. F.
patient treated with Saliwell® device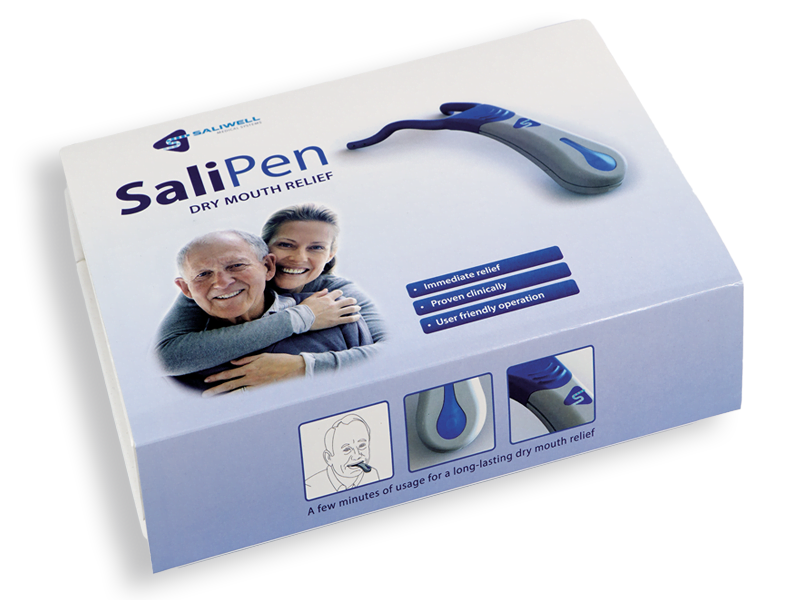 Sali
Pen

® dry mouth treatment
Increase saliva production for dry mouth relief by gentle stimulation.